Have you ever read an article on the Internet and clicked a related link that didn't work? Isn't it aggravating? Broken link building comes into play here.
Broken link building is a beacon in the night, giving a much-needed safe harbor for sites with broken links to rebuild, repair, and connect with new web pages.
Broken link building is an effective SEO tactic that may boost your website's traffic, authority, and search engine ranks. Knowing how to accomplish it is the key.
What are Broken Links?
Creating backlinks by replacing connections to 404 pages with functioning links to a target website is known as broken links building or dead links building.
For many readers, a broken link is a deal-breaker. This might be a concern for sites that depend on client interaction. And there's a chance for you right now called broken link building.
Broken link repair is a technique for repairing non-functional links. It's a search engine optimization (SEO) method that can assist firms in replacing broken links with their own.
What is Broken Link Building?
It is known as broken link building, locating broken links on other websites, emailing the webmaster about it, and promoting your website as a substitute for the connections.
By finding out the broken links on someone else's website, you may get a link to your website utilizing the broken link-building approach. You may go after existing but non-operational links rather than having to construct them from the beginning.
It also provides a long-term approach, as millions of linkages are broken daily due to various factors. Broken link construction is less likely to become outdated due to the nature of the Internet.
For starters, the webmaster of the external site is no longer redirecting people to some empty 404 page. Secondly, those users are now receiving the requested informational material. Finally, and most significantly, your website sees a significant increase in traffic.
Step-By-Step Guide To Broken Link Building
There are certain broken link building tactics that you can utilize to backlink your content. We will take a look at the step-to-step guide to fixing broken links.
Step 1: Search for Broken Backlinks
Before you can start replacing broken backlinks with your own, there's one thing you need to do first: locate them!
The Site Explorer in Ahrefs is one of the tools we utilize at SEO. To begin looking for broken backlinks, go to the Site Explorer search field and type the name of one of your rivals' websites.

Ahrefs will evaluate that website and provide you with a comprehensive summary of the entire domain. You may start by looking in the upper right-hand corner of the left sidebar. There is a menu named Backlink profile with an option for "Broken backlinks."

You'll almost certainly be aware of particular domains from which you'd want to obtain a connection.
Selecting a particular domain — You may use Check My Links or Domain Hunter to look out for the website or use Xenu. Check the link target quality and double-check the link to make sure it's not broken.
Choosing sites within your business niche — By looking for sites in your company field, you might potentially identify broken connections from unfamiliar sites. You may hunt for sites with links on offer by combining relevant keywords in your field.
Searching sites by keywords — Finally, you may use your selected term to check for broken connections. Perhaps you've generated material that you'd want to use to build links. Define the content's precise keywords and utilize search engines to identify reputable sites that include those keywords.
Find links to the top sites in your search using a service like Ahrefs. This helps you locate websites in your niche linked to this high-quality content.
Check these sites for broken links and replace them with your own. It's good to make a spreadsheet for your targeted broken links. Mention the broken link's URL and the broken link's URL and keyword. This would allow you to compile a list of broken links that you may use to notify the site's owners.
Step 2: Determine Link Target Quality
While there are many broken links on the Internet, not all are worth the time and effort. Broken link building, like all SEO, is only useful if you aim for high-quality links.
What makes a website worthwhile to target?
Noticeable page ranking
A strong social media presence, with plenty of sharing and followers
Website of high quality, with appealing design and relevant, high-quality content.
The sites you don't want to target, even if they have broken links that are useful to you, are as follows:
There are a lot of links, and it's evident that the site's sole goal is to spam links.
Spam links, such as connections to objectionable content
There are over ten broken links on the site, indicating that the site's owner is not interested in keeping it healthy.
In most cases, a quick look at the site will reveal whether you're dealing with a legitimate, high-quality website or spammy domain.
Above all, as a business, you must decide whether or not you want your link to show on the site. As a result, don't just glance at the page with the broken link; get a sense of the entire website.
For example, the site may have a proper broken link and reasonable quality, but it may have undesirable aspects that you do not want to be associated with your company. An alternative medical website or a politically focused website, for example, may not be appropriate for your company image.
Remove the targets with a low number of links from your spreadsheet. You may even assign a score to them and begin contacting the higher-value sites first.
Step 3: Choosing Replacement Content
You will get a list of broken links and the sites that contain them once you've completed the first two stages. You may now create material that complements or enhances the broken link.
You'll have a basic sense of the content of the dead page because you searched using relevant keywords. You may also look it up on archive.org to see how the broken page appeared.
The first option, which is to choose from your existing material, is the most straightforward. You don't have to waste time producing content; instead, you can look for broken links connected to your material.
Make sure the material you're utilizing as a substitute is natural for the link. The better the match, the more likely you will get a connection back.
On the contrary, if you discover broken links on high-quality websites that may be relevant to your business, don't be afraid to create fresh content around them. If you have a company blog, you may make a brief article or add extra content to your site that would be a good match for the link. This may be well worth the effort for high-quality sites.
Step 4: Contacting The Webmaster
Once you have found the broken links, analyzed the quality of content, and figured out the content you want to change, you will OBVIOUSLY have to get it approved by the website owner, right?
Hunter.io can help you discover the webmaster's contact information if you're having problems finding it. Hunter.io is a business email lookup tool that is very simple and useful.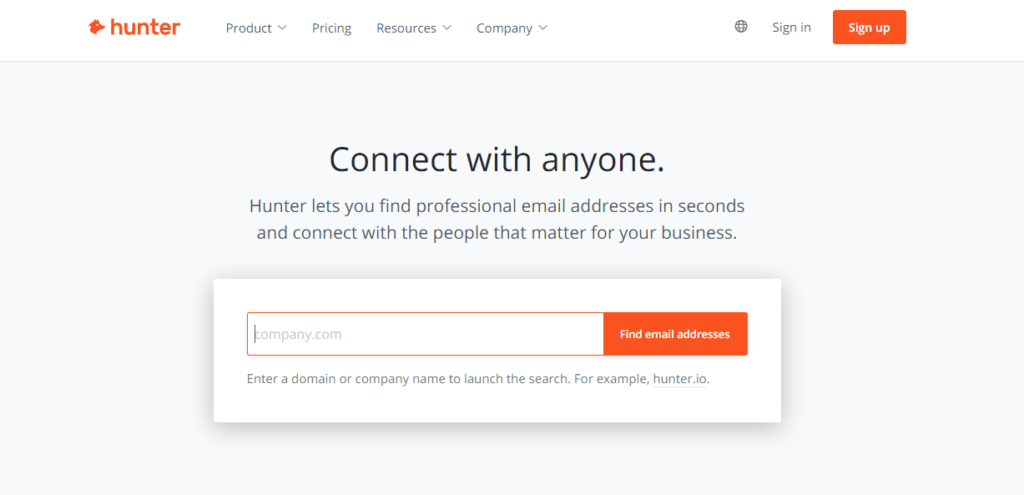 Once you have found the contact details, you can write an email to the website owner to get approval for backlinking. The email must be personalized, polite, professional, and not sound robotic. The website owner should feel that you care for their website.
In your email, avoid sounding intimidating or harsh. You don't want to intimidate or compel the site owner to utilize your link. Make them feel like you're attempting to assist them rather than seeking personal gain.
Ensure that you point out the broken link and offer a substitute. Mention the URLs in the email since you want the owner to be able to see the material that will take the place of the broken link.
Please focus on the site owner's benefits rather than how it helps your enterprise. For instance, discuss the aggravation of broken links and the value of your material to the site's viewers. Instead of just saying the link you're looking for, it's also good to note all the broken links on the page. You may even substitute other links in their place.
Step 5: Track Results
Some webmasters may answer once you've emailed them, alerting you that the broken link has been updated with your link. On the contrary, others may not respond, so you'll have to double-check them.
Remember that just because a webmaster doesn't react doesn't imply they weren't interested in using your material to restore their broken link. You can organize and track all the website masters you've contacted through the WebCEO's Backlink Quality Check Tool segment that shows you new links.
Analyzing the effects of your broken link-building attempts is the final and perhaps most critical phase. It includes both follow-up and tracking of the result.
Follow-up means taking feedback from the approached webmaster. Thank them if the webmaster consented to have your content replace their broken links. Beyond being polite, this helps create a working connection with that webmaster, which may be advantageous in the future.
To keep track of the websites or webmasters you've contacted, make a spreadsheet with the following information: the URLs of the websites/pages you're targeting, the anchor text/URLs of the broken links themselves, the webmasters' contact information, the time you emailed them, whether or not you got a response when you received that response, and what the nature of the response was.
Final Words
Broken link building is an effective marketing strategy. It may provide you with high-quality backlinks on various topics when implemented correctly. So, if you find a broken link building opportunity, hold onto it.
After your broken link building efforts, it may take some time to obtain your desired result, but don't let that discourage you! Don't forget to keep track of your progress and adjust your link building tactics until the plan yields fruitful results.
The broken link building strategy outlined above can assist you in utilizing the most effective broken link-building tools and tactics. You simply need to be clear about the links you want and test a few different contact techniques to see which one works best for your company.
While broken link building can help your website obtain loads of new backlinks, there's no assurance the strategy will work for you. It's a time-consuming SEO technique that needs a lot of effort, study, and perseverance. So, if you're a little firm, you'll have to figure out if this is the best strategy for you.