Due to their agility and quicker business solutions, no-code app builders have attracted substantial business interest amid the epidemic as more and more companies are looking to build an app without coding.
No code app development alternatives have overcome the restrictions and limitations of conventional mobile app development methods.
Small and large business owners have emphasized the need to embrace no-code app-building platforms to create mobile applications seamlessly to grow their businesses exponentially.
The masses now resort to AI tools for the best professional logo designs or fully optimized custom web designs and development.
Let's start with the fundamentals of mobile application development without any coding required. Without prior programming knowledge, you can create a smartphone app using the pre-made templates available from the best no-code app makers.
Looking back, developing apps requires a deep understanding of programming languages. Similarly, coding also calls for a thorough understanding of programming languages. So the question arises, 'Does mobile app development need coding?'
The answer to that is definitely yes. Ideas can now become a reality thanks to no code app creation. Applications can now be created utilizing an app maker and the best no-code tools if you know how to navigate the internet.
In addition to that, designers and developers need more time to make a high-quality functioning mobile app. One might wonder if creating a mobile application is possible without prior coding knowledge.
You can also utilize an app maker or a mobile application development company as an alternative to conventional development methods if you are familiar with web browsing and have the edge over competitors in this field.
The best app builders for app creation, the process of creating a mobile app, and the price of doing so are all covered in this comprehensive guide. Let's delve further into the specifics.
Steps for Mobile App Development without Coding
Creating a mobile app without using code or an app maker is a simple and less expensive approach.
No-code tools with pre-programmed templates are widely available and let you modify your app as you please.
You can build an app without coding for your personal or professional requirements using an app builder by following a simple development procedure.
1. Select a no-code app creator
It is advised to select the best no-code app building platform as no-code app development is becoming increasingly popular among companies for quicker and more affordable business solutions.
However, not all app developers offer the capabilities and features required to satisfy your unique requirements.
So, give it considerable thought when comparing different no-code app development tools. You can choose a no-code app builder based on the following criteria:
2. Name of the app creator
No-code app developers have a big hold over a sizable market that enables business owners to create mobile applications quickly.
However, it is important to consider the brand reputation via user reviews, case studies, and testimonials.
Additionally, you may download the apps created on the chosen platform to test their functionality to determine the reliability of a mobile app developer. It's time to stop using app-building platforms if it fails their functionality test.
3. UX/UI
Use the free trial of a no-code app creator to take a quick tour and determine whether it has a user-friendly interface or a sophisticated design before subscribing. By visiting a no-code app creator, you may quickly assess your comfort level with its interface.
Although certain systems are undoubtedly simpler, other software requires learning about the features and functionality. Therefore, it is advised to pick a dynamic and user-friendly app-building platform while developing apps.
4. Price
App developers provide various subscription options to let users customize their mobile apps. Decide on a fair pricing strategy that best serves the interests of your company, then proceed to the subscription.
For instance, buying an expensive subscription plan is not a good idea if your business has only recently launched. Additionally, you can remove pointless features to reduce the cost of app development.
5. Options for customization
Some app developers might need to provide the features you want to include in your mobile app. Check if your mobile app builder has no functional restrictions and lets you create apps seamlessly.
You can create a more specialized product by selecting the best app builder with countless alternatives. Note that not all app developers offer all the functionality you wish to include.
However, your goal is to create a simple app. In that case, you will not have to worry about this and proceed cautiously while assessing the no-code app-building platform if you're looking for extensive capabilities.
You can be confident that several app makers are one of the most influential and flexible options available after using them.
6. Subscribe for a package
Select a subscription package that best meets your demands after deciding on a no-code app builder (platform) for app creation.
You can plan the features you want to include in your app and compare the potential costs involved.
For instance, you will have to sign up for a costly pricing plan to create several apps that work on tablets or smartphones. You can choose a subscription package bearing in mind the aid and compatibility of the app.
7. Select a template
Pick a template that works best with your company's theme after registering on a no-code app-building platform. Creating an app is only a few clicks away with the help of a template.
A mobile app can be created by people and business owners with no coding experience thanks to no-code app makers.
With no coding experience necessary, templates provide a starting point for users to create apps. Every template has characteristics based on the type of business you are registering.
For instance, a tourism app template assists travelers in finding their preferred destination or spots close to their original search, a salon app template aids in scheduling appointments, and a restaurant app template makes it easier to take orders for food delivery.
If the features you wish to include in your mobile app are unavailable, you can modify and tweak them to suit your needs. Pages and features of your choice can also be included while developing a mobile app.
8. Establishing a brand identity
A template is only the first stage in the app design process. To create a mobile app that is more uniquely yours, modify the app icon, color scheme, and layout from the pre-made versions in the templates according to your brand identity.
Selecting a proper color scheme, logo, typeface, and layout for branding will enable you to get a more customized result, enabling easy recognition of your company among users.
Users can view the app's logo in the icon when installing an app from Google Play or the Apple App Store.
You may wonder how to create a logo that appeals to your company; hence it is crucial to create an attention-grabbing logo to capture the audience's attention.
Online tools often create visually appealing logos as they are user-friendly and provide various business template choices.
9. Tweak the content
Editing app content comes after customizing the app's layout, color scheme, and branding. Each template comes with preloaded content that you can modify according to the needs of your particular organization.
For instance, information displayed on the 'About Us page can be changed to make it more pertinent to your company. No-code platforms for creating apps allow you to add new tabs to increase user interaction in your mobile application.
10. Additional elements and features
The greatest app builders provide a wealth of tools to create a unique mobile app, allowing the addition of all features necessary for the expansion and growth of a firm. App makers have a marketplace for adding new features to their apps. App Component menus further allow you to alter an app's functionality.
11. Make the app public
It's time to publish your app when all the features and content have been added. If you use a no-code app builder, your app can launch on Google Play and the Apple App Store with only a single click.
You must sign up for a developer account on each no-code app development site or platform to publish your app instantly.
The number of users downloading your mobile app from the Google Play Store after its release is a key factor in determining its success.
The next stage after publishing your app is 'in-app promotion.' Promoting your app can help your business attract more clients and raise its value.
Top 5 No-Code Tools and App Development Platforms
Businesses can swiftly create software without coding, using the drag-and-drop features offered by the no-code development platforms discussed below.
The platforms include drag-and-drop components and WYSIWYG editors to assemble and develop apps swiftly.
Both developers and non-developers can use these tools to practice developing applications quickly with distinctive workflows and capabilities.
Many of these platforms are intended for large enterprises that must swiftly create complex workflow applications.
The tools allow you to construct completely functional apps without writing any code by offering templates for workflow, element libraries, and interface customization.
1. Airtable

Any team can use Airtable to power their most important and distinctive workflows by allowing them to build apps on top of shared data.
The Airtable Connected Apps Platform helps teams at more than 300,000 enterprises, including 80% of the Fortune 100, to link their people and data and accomplish their goals.
Although Airtable resembles a spreadsheet, it is considerably more advanced. Their building blocks allow teams to expressly adjust views for the type of work they do, define relationships between items, and represent the things they work on.
Teams can modify their applications using Airtable if markets or objectives change. The platform improves agility by giving managers and collaborators openness and visibility.
The best feature is that they let teams resolve various use cases without IT staff. Discover why so many businesses are moving away from spreadsheets and traditional project management systems, and give Airtable a try now.
2. Softr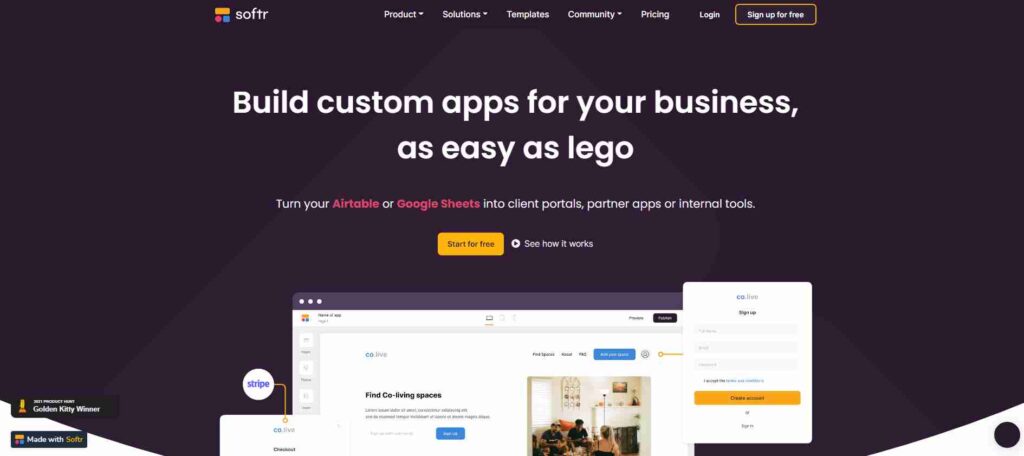 You may quickly and easily construct your company's internal tools and client portals with Softr.io.
The no-code app development platform is compatible with Google Sheets and Airtable. Join more than 80,000 teams creating staff intranets, client or partner portals, project management tools, dashboards, CRMs, and other features to ease the workflow.
3. AppSheet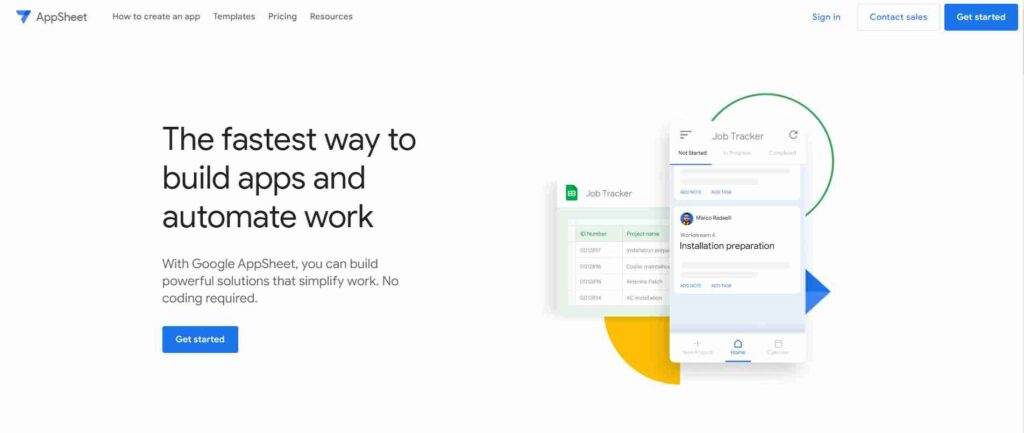 Over 200,000 app developers worldwide, including Clearlink, Enterprise Holdings, ESPN, Pepsi, Husqvarna, and others, trust the AI-powered no-code platform, AppSheet – A leading Code Development Platform according to Forrester in 2018.
Create a No-Code App in 4 Easy Steps:
(i)Link your data sources (e.g., Excel, Google Sheets)
(ii) Copy a model application.
(iii) Utilize an Add-On for Excel, Google Sheets, or Forms.
(iv) Start with SPEC, a declarative natural language programming tool.
4. The Salesforce Platform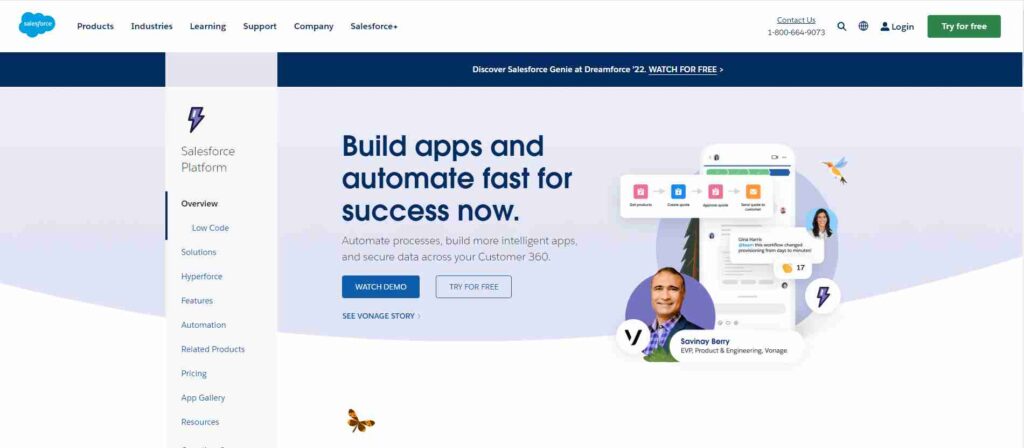 With 6 million mobile phones and 75 billion connected devices, businesses across all industries are adjusting to the demand for technological transformation among all stakeholders, including customers and staff. Meeting these high standards can be challenging, especially when resources are scarce.
Building applications is one method to accelerate value delivery and boost creativity within your company. The app development platform known as Salesforce Platform allows you to increase the functionality and reach of your CRM. The Salesforce Platform allows anyone to create apps without programming knowledge.
Anyone may design apps that automate corporate operations or assist customers in finding crucial information thanks to drag-and-drop simplicity. Salesforce is language-independent and enables fully customized application development in your chosen language if you are a programmer.
The apps you develop for your company can connect to almost any data source, be simple or complex, and be distributed on mobile, tablet, and the web. Start looking for methods to improve user experiences and streamline workflows. The only restriction on Salesforce app development is your vision.
5. Landbot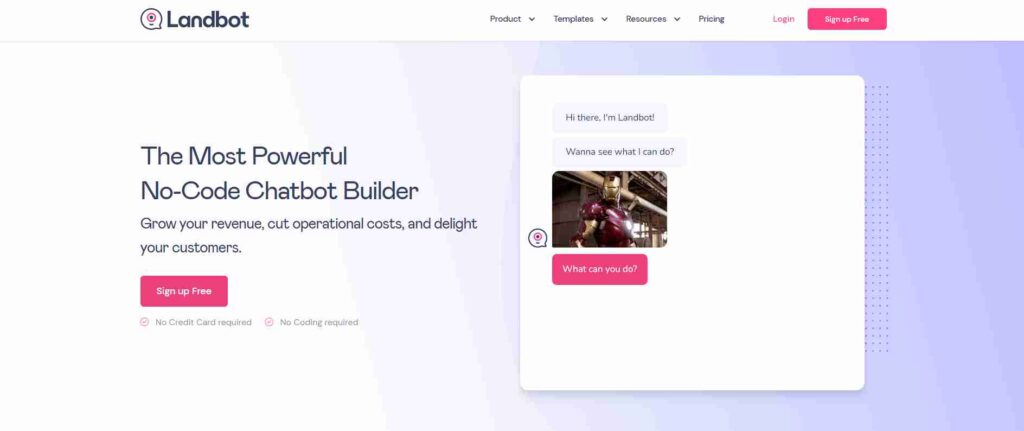 Landbot is a no-code app that facilitates multi-channel interactions on the web, WhatsApp, and Facebook Messenger while employing an intuitive drag-and-drop builder, rich UI features, and conversational experiences for your audience.
Landbot supports advanced data workflows, NLP, Dialogflow, & real-time integrations with all top apps if you require something more complex. It additionally assists you in creating straightforward and sophisticated automation that supports a variety of use cases in marketing, sales, customer support, and operations.
Landbot believes convos can be automated at scale without sacrificing the human element. Their multi-agent support and human takeover feature enable a seamless switch from a bot to a human in seconds.
With Landbot, you can optimize each stage of your client journey without writing a single line of code, from lead generation to customer care.
How is AI Used in the Creation of Apps?
The use of AI in app development can be quite beneficial. It can help improve the app's user experience while boosting productivity when implemented properly.
Its application in chatbots is one illustration.
Computer programs known as chatbots are created to interact with users using text or voice interfaces to deliver information about purchases, products, etc., or to help clients with the sales process. They are also utilized while creating automatic response decision-making systems.
Voice recognition software, which is increasingly used in smartphones and other devices, is another application of AI.
Advantages and Disadvantages of AI App Builders
Using sophisticated algorithms, artificial intelligence, or AI, paves the way for developing "thinking" robots. Many people think they will alter the world as we know it when they grow in intelligence.
App developers' use of this technology has come under scrutiny since its development.
Artificial intelligence-enabled chat help for brands, auto-search on search engines, intelligent predictions on eCommerce platforms, and more are all tangible examples of the advantages of AI.
However, it is possible to consider the numerous drawbacks of AI. Here are some of AI's main benefits and drawbacks.
Benefits of AI App Builders
1. No human mistakes
This explains why the use of artificial intelligence has exploded across many industries. You can obtain accurate results by eliminating human error. To properly program is the catch.
Machines use specific algorithm sets to make reliable conclusions based on the historical data accumulated over time. As a result, there is a drop in error and an increase in accuracy, making it possible to build an app without coding.
For instance, Google recently discussed a machine learning technique that revolves around weather prediction on their AI blog. As Google will name it, nowcasting forecasts the weather from zero to six hours in advance. Google thinks they can predict the weather more correctly using less data and a straightforward process, especially for thunderstorms and precipitation-related occurrences.
2. No dangers or threat
Using machines to perform activities can be profitable when humans may be at risk. For example, allowing technology to handle a natural disaster may lead to a quicker recovery and less strain on human teams.
This concept builds on Google and Harvard's initiative to create an AI system that can forecast the locations of an earthquake's aftershocks.
The neural network was tested on 30,000 occurrences after scientists studied over 131,000 earthquakes and aftershocks. Compared to more established techniques, it demonstrated greater accuracy in locating aftershocks.
3. Constant accessibility
Machines do not get fatigued. In contrast to humans, machines can work continuously without breaks and never grow weary of performing the same thing repeatedly.
Google unveiled Contact Center AI for businesses in November last year to enhance customer experience. This is a prime example of an AI-powered hotline system allowing companies to constantly handle client concerns and issues and fix them on a priority basis for better customer experience.
Similarly, Amazon Lex, a chatbot created for call centers, can have intelligent dialogues responding to human inquiries. It uses the same technology as Amazon Alexa to identify the caller's intent, pose pertinent follow-up queries, and offer responses. These chatbots are accessible 24/7 and serve clients from all around the world.
4. AI robots are emotionless
Except for Chitti, the robot which, quite frankly, bewildered me with its fixation with the female protagonist Sana, machines are emotionless. You can handle client complaints more steadily if your computers have this one feature that artificial intelligence (AI) can.
Consider the inconvenience your users would experience if a feature in your software suddenly stopped working. They will undoubtedly write emails, raise tickets, and ping your chat support. People frequently try "live chat" rather than waiting for emails or support tickets to be answered.
Imagine a human being on the other end actively attempting to address hundreds of requests while fully comprehending the problems. That individual will snap eventually. Conversations could degenerate in terms of linguistic sensitivity.
However, a conversation system with AI does not reach this breaking point. Customers can ask strange questions, and your chatbot has pre-fed responses that it will keep displaying based on how it interprets the question.
Since machines cannot feel anything, it is unquestionably among the safest ways to manage such situations. They will examine the words used in the query, compare them to the pre-fed data, and provide pertinent responses.
5. AI machines are quick to make decisions
Making computers that can make data-driven judgments considerably faster than humans is possible with artificial intelligence and other technologies.
Why rely on a machine's judgment?
It is straightforward and free of prejudice and strong feelings. Emotions influence a large portion of human decision-making. On the other hand, a machine takes a very practical and logical approach. As a result, decisions are made with greater accuracy and focus on outcomes.
For instance, IBM's Deep Blue supercomputer bases its conclusions on every likelihood derived from the opponent. A human cannot process as many probabilities simultaneously as a machine can.
6. AI, marketing, and audience reach
Intelligent technology solutions are being quickly adopted by many businesses to promote operational efficiency and enhance the customer experience.
Artificial intelligence (AI) marketing platforms are a common kind of these clever solutions. These platforms allow marketers to develop a more detailed, all-encompassing picture of their target audiences.
You can then use this optimization process's artificial intelligence-driven insights to increase conversions while simultaneously lightening the workload of the marketing staff as the implementation of strategies will be automated.
Drawbacks of AI App Builders
1. AI-enabled machinery is expensive
It makes sense that AI-driven efforts can be expensive, given the complexity of a machine with AI. It is very expensive to build a machine that can mimic human logic and reasoning because it takes time and financial resources.
2. Lack of creativity in machines
The problem with machines is that they perform as intended. Machines can learn over time thanks to artificial intelligence, but they need to learn to think creatively. A computer will always evaluate a situation based on previously provided data and learned lessons. A machine finds it challenging to take an original approach.
3. AI-enabled machines could eliminate jobs
AI-powered bots are replacing most repetitive tasks. As firms strive towards more risk- and error-free operations, the necessity for human intervention is decreasing. Add to this the speed that machines bring. As a result, many previously prevalent work options have been eliminated. Simple data entry tasks and chat help, which is the initial point of contact for clients, are now carried out by bots that are more efficient and available 24/7.
According to a two-year McKinsey research, 375 million people will need to change employment by 2030 since robots are predicted to replace at least 30% of human labor or between 400 to 800 million jobs.
4. No emotions can be intimidating
Although it is one of the main advantages of artificial intelligence, this is also a drawback. Because machines lack feelings and empathy, they cannot form relationships with people. A human being made of flesh and blood must nonetheless step in at some point to fix a continuing issue, even though machine learning and NLP have assisted firms in setting up initial customer care through chatbot-enabled platforms.
Global customer experience will deteriorate if everything is left to bots. The initial touch basing can be done by bots. It's fantastic if pre-fed guide documents can answer the customer's question. If not, the bot automatically creates a ticket that a person must manually follow up on.
When you do not emotionally drive a bot, it may not be able to understand your pain point. A human ear will always be necessary to complete tasks.
5. AI-enabled devices lack ethical comprehension
Ethics is yet another human quality challenging to replicate in a machine. A machine lacks morality, making it challenging to build and communicate morality through technology.
Artificial intelligence can speed up tedious tasks for organizations, but expecting a machine to act ethically is as unrealistic as making doodles on the sea's surface. That is a characteristic only found in humans.
6. AI's execution is not easy
Despite the several benefits of AI tools and technology, it can take time to implement in custom mobile app development. App developers need help to dynamically incorporate and use AI tools across various platforms.
This, however, is important for seamless and uninterrupted UX/UI, as the app interface must work in perfect synchronization and harmony.
AI systems must be tuned and designed to evaluate and comprehend instructions to input and implement during the process so that the result is as per user expectation.
A developer must also incorporate recent trends and behavioral shifts, as AI apps are subject to continuous learning and change.
Although implementing AI in apps is difficult, it will reap favorable results for your venture in the long run.
Cost of Developing an App
When creating a mobile app, various development alternatives are accessible. To create a mobile app for personal or commercial purposes, you can use a no-code app creation platform; or hire a developer or freelancer.
The cost of developing an app can be decreased using an online app creator. The reason is that app builders charge monthly or yearly fees.
Your targeted membership plan determines an app-building platform's actual cost, which fits your business or individual demands.
For app building, traditional app development calls for a team that consists of:
Developers for iOS
Android and web developers
Project Managers
Designers of Mobile Apps
Customer support and QA specialists
Testers and a maintenance team
If your developers leave, get sick, or vacation, you may occasionally need to recruit an additional developer to create iOS and Android apps.
However, you won't need to worry about this if you utilize an app builder. You won't have to pay extra for user authentication, push alerts, app upgrades, and other advanced features if you subscribe to an app maker for those capabilities. Mobile apps can be created using no-code platforms for $150 per month.
Factors Influencing the Price of Developing Apps
Other than the method of creation, the following factors affect how much a mobile app costs:
Category of an app
App development approach
Elements and features of an app
Design a mobile app
App complications
Android and iOS platform
Let's delve more deeply into the specifics of these elements:
1. Category of the app
Numerous app categories are becoming important for corporate success, including music, education, leisure, health and fitness, travel, sports, social media, and mobile applications.
The category of your app has a big impact on how much it costs to develop. You can get the most fundamental functionality for your app for a few dollars.
For instance, creating a stopwatch or calculator needs the most fundamental features. Since it is simple to create these mobile apps, their development expenses are low.
However, your cost to design a mobile app will rise if you want to include sophisticated features like push notifications and in-app transactions.
Adding more sophisticated features makes apps more complex and more expensive. GPS, in-app purchases, and payment methods are examples of complex app features.
In addition to complicated features, the following other factors affect the overall cost of developing an app:
Cost of design
Back-end development
Security procedures
Testing and maintenance
Consider developing a social media, gaming, or e-commerce app. These apps will cost more to develop than those with more basic functionality.
2. Select a technique or approach for app development
There are several ways to create an app that suits your professional or personal needs. The app development process directly impacts your app's price. When creating an app, there are several development options available:
3. Create an app on your own
If you have a technological background, you can create an app independently. The cheapest app solution is to build an app from scratch by yourself.
4. Employ a programmer
The price of developing an app will rise dramatically if you lack any coding expertise. You can ask the app developer or a group of app developers for assistance.
The price of developing your app will increase as a result of this. The location of the developers also affects the cost of development.
5. Work with a freelance developer
You can engage a reasonably priced freelancer if you prefer traditional development to a no-code platform for creating apps.
If you have $10,000 to spend on the development of your app, you can hire a freelancer or independent contractor. Hiring a developer is not a good alternative in this pricing range because they charge extra owing to their vast experience in app development.
However, the issue with freelancers is that they serve various clients, so your app won't receive their undivided attention.
We advise hiring freelancers if you're looking for a quick way to make your company operate on a low budget. If you want to construct an app that costs between $1,000 and $10,000, consider employing someone with limited experience.
In conclusion, you might obtain a qualified mobile app, but there is still a risk associated with the app's caliber. Therefore, you must choose an option that could satisfy your personal or professional objectives while also paying a reasonable price.
6. Make use of a no-code app development programme
Consider using a no-code app creation platform to satisfy your needs reasonably and save time and money.
Developers of apps have cut the price of creating mobile apps. This is because AI platforms provide free app templates that can be altered to make your mobile app more unique.
If you need to learn how to code, you can start using any professionally developed template that fits your company's objectives and demands.
Some app developers additionally provide subscription options that you may choose from and tailor the app to your needs. The ideal alternative for small business entrepreneurs that have funded their enterprises on a low budget is a no-code app-building platform.
However, these app developers refuse to create apps for big corporations or games.
Can a Mobile App be Created FOC?
App creation and building of apps are now expanded beyond experienced programmers. An award-winning low-code app development platform now has a free version that allows anyone to create mobile apps without knowing any programming – Alpha Anywhere.
The best way to build an app without coding is with the free app creation tool Alpha Anywhere, making Android and iPhone apps simple. Your apps may contain push alerts, GPS, audio and video recording, photographs, digital signatures, and other advanced options. Your apps will be able to access well-known databases and web services that you already use.
You can learn about app creation, design, and publication with a free license from the top platform for low-code application development. You can make an infinite number of apps with excellent user experiences, unlike drag-and-drop app builders like Appy Pie.
With Alpha Anywhere, you can develop apps that function like native apps on any mobile platform and have fantastic user interfaces. You can power your daily business chores with smart and approachable apps.
A searchable library of "how-to" videos and product documentation is included in your license, allowing you to learn at your own pace. You can follow the instructions to develop, style, and add the newest mobile features to your app.
Why Create an App with Low Code?
Companies are being forced by digital transformation to create mobile apps more quickly than before. Unfortunately, creating native apps is both time- and money-consuming.
More consumers can now create mobile apps without employing professional developers thanks to low-code app builders like Alpha Anywhere. By 2024, low-code application development will account for more than 65% of all application development activity, according to Gartner.
Conclusion
No-code platforms to build an app without coding have recently been very popular because of their cost-effective business solutions for entrepreneurs.
After reading our comprehensive guide, we hope you have a better understanding of how to create a mobile app, the best app developer, the pricing of an app, and the costs involved. Now is the time to use no-code app creation to bring your ideas to life while cutting major costs.
One of the greatest solutions for businesses is to use an app maker as they feature an easy-to-use interface, enabling the swift creation of mobile apps without much effort.
The appeal of these no-code platforms is that they include technical documentation and backend code that may be useful to you even if you decide to stop using the platform for creating apps.