Instagram is the second most popular social media network after Facebook, which is now known as 'Meta.' One of the most frequently visited mediums has over a billion active users monthly and sees about 500 Instagram stories every day.
Everybody, including individuals, pets, and businesses, has an account on the social media platform and benefits from the Instagram marketing service. There has been a rapid increase in brands who have established their presence on the platform in the recent few years, and about 71% of businesses based in the U.S. utilize this platform for engagement and growth.
So why is online Instagram marketing the best practice for brands?  The platform has a wider audience reach with over a billion active users each month and about 500 million Instagram Stories daily. Statistics report about 140 million U.S.-based Instagram users.
After Facebook, Instagram is the second most frequently visited site, and the average browsing time for a user is about 53-55 minutes every day.
Around 71% U.S. based businesses take advantage of Instagram marketing trends such as Instagram influencer marketing, and 45% of traffic on the app is from users aged between 18-44 years.
Instagram is now globally used as a platform allowing businesses and brands to make their content more user-friendly, hire new talent, exhibit products, and services, and leave an impact on their audience.
Instagram marketing for online businesses helps build brand awareness and engages a big number of followers with new products and shopping content. Promoting your brand's services and products can be done in an authentic and friendly manner without resorting to direct or hard selling means.
Read the guide to get started with your Instagram marketing strategy.
Why Advertise on Instagram?
The highly appealing visual nature of the app gives it an advantage over other interactive platforms as it offers various impactful digital marketing options. Instagram is considered the best marketing platform to showcase a brand's content if they have services that have a visually noticeable end result.
An online Instagram marketing strategy for your business will help determine the type of content to be published and how regularly posting should be done. Developing and implementing a strategy will have you focused on your objectives and your targeted audience.
Establish Your Own Instagram Marketing Plan of Action
Instagram differs quite a lot from the rest of the popular social media platforms as it requires a unique marketing strategy. Implement the following Instagram marketing tips to evolve your brand and its unique style.
1. Define Your Goals
In order to be successful on Instagram in the near future, a business must have a set objective and purpose to balance out the energy, time, and monetary investment.
Several ecommerce businesses are active on Instagram to sell their products to customers via the news feed. Some even share their portfolio content so that their followers and others are able to view your products and services in action. Some businesses exist on social media platforms to simply build brand awareness. Many apply user-generated content marketing for a greater audience so that real people are seen using the business' products or services.
Your business page's performance can be measured using the Instagram Analytics tool.
2. Determine Your Target Audience
Define the audience to be targeted prior to marketing on the social media platform. Consider demographics such as race, location, income, gender, and age. Other factors like interests, motivation, and pain points should also be taken into consideration before marketing your services.
3. Carry Out a Competitive Analysis
Monitor and assess popular events and the use of hashtags by them, which could also be handy and relevant to your business.
Conduct a competitive analysis to see how the other marketers relevant to your field are going about their social media page management. Review your top competitors' and similar accounts' Instagram profiles. The information derived from this research can serve as a benchmark for your business in its initial stages of Instagram marketing.
4. Make a Content Calendar
Following an editorial content calendar will assist you by saving time, managing your presence on the social media platform, and keeping a lookout for real-time opportunities.
It is recommended to plan your captions, posting time, post types, and hashtags in advance. Special offers and new product launches can also be added to your calendar as highlighted key events.
5. Be Consistent With Brand Marketing
Maintain and continue a consistent brand aesthetic, as random content may leave your audience confused and can cause them to unfollow your page.
Having a brand aesthetic helps make your brand popular and recognized.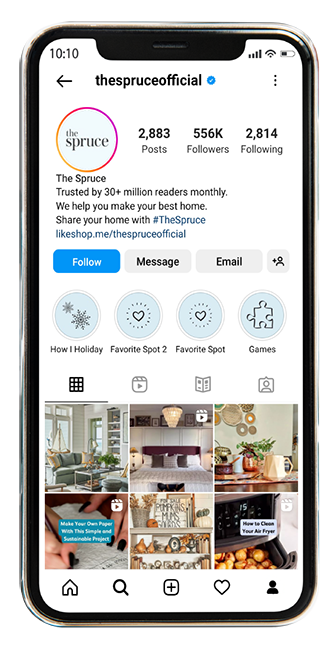 Spruce's brand aesthetic is easily recognizable, and its account reflects its organized, bright, and clean traits.
While maintaining a brand personality, aim to deliver content keeping your brand narrative in mind, such as compelling accounts in your captions to make your brand more relatable to the audience.
6. Grow Your Follower Base
Increasing your follower base takes a lot of time and effort. However, don't opt for the easier way and buy followers, as Instagram's latest API feature will delete those followers from your list automatically.
Ensure to undertake the following measures to build your following the correct way:
Ensure that your user I.D. is easy to recognize and remember. Be sure to have a bio describing who you are and what you do.
Fill your page and news feed with a handful of high-quality posts before you start running ads to engage the audience.
Follow accounts of your interest and pages which are relevant to your business. Search for influencers and businesses in your area that may show interest in your product or service.
Interact with accounts after following them. Always respond to your followers in the comments section and engage with their content.
Encourage reposting and re-sharing content so that your brand is recognized among your followers. Send brand ambassadors an invite to collaborate with your Account.
7. Promote Your Business
Once a follower base has been established, those accounts can be converted into paying customers via the following strategies:
Promotions: Offer deals and discounts.
Contests: Carry out activities that require accounts to follow you or use a hashtag to enter.
Charity: Build affinity for your brand, which will turn followers into customers.
Show glimpses of new products before they're launched via teasers and snippet videos.
Live launches: Showcase new products or services via Instagram Live and grasp a wider audience. Connect your followers to your website, product pages, and blog.
Managing Your Business Account Settings
Identify your Account as a business profile and switch to a professional account. The Business Tools on Instagram allow users to easily contact you, promote content, and give you detailed insight.
It is necessary to have a business page on Facebook to switch your Instagram account to a business profile.
From settings, go to Account and click on 'Switch to Professional Account' to make the switch.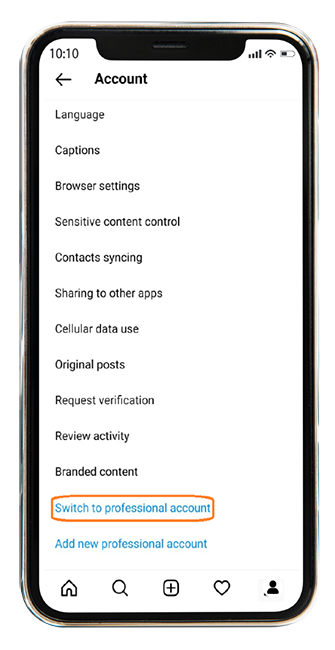 Allow Instagram to manage your pages by selecting the 'switch to a business or creator account' after logging in to Facebook.
With this feature, you can add up to five additional accounts and switch between them frequently. Instagram instinctively imports the relevant details from Facebook.
Types of Posts on Instagram
You can post a variety of content on Instagram, such as images, videos, stories, highlights, and reels. The different types of posts for engagement are as follows:
Images
Posting a variety of different photos will indicate that your brand is diverse and engages your followers in different ways. Genuine photos from brands are more appreciated on Instagram than outright advertisements.
For instance, many brands' Instagram pages depict product photos, but the majority of the posts show the real faces, events, and other types of promotional content that portray the brand aesthetic as a whole.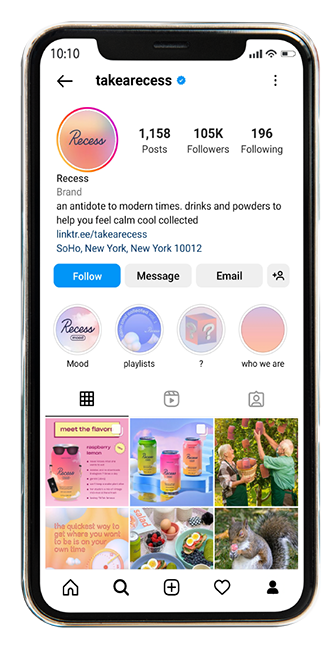 Behind-the-Scenes Posts
Such posts provide an insight into your business that others can't usually see. Such posts shouldn't appear to be scripted, as authenticity is key.
Employee Reposts
Humanize your business and curate authentic content by reposting posts or photos of your employees. Your audience will engage with the brand and virtually bond with the employees.
Educational Posts
Such videos have quick and easy instructions to follow and tips on how to create or do something. Learn how to create educational posts on Instagram.
Influencer Marketing Posts
You can gain the attention of another audience with influencer posts as you are able to capture a wider audience using the fame of a well-known public figure while promoting your business. Such posts include visuals of celebrities using your product.
Motivational Posts
Such posts are a combination of a visual with an uplifting text or quote encouraging your audience while amplifying your brand's values. While such posts are effective, they should not be posted too frequently to avoid coming off as cheesy.
User-Generated Content (UGC)
This refers to the content made by your followers and fans. Posts with your business hashtag and your tagged posts are commendable sources for user-generated content.
Sharing your customer's posts and images shows your brand's excellent customer care. An app like 'Repost for Instagram' can be used to share user-generated content.
Newsjacking & Timeliness
International and national days celebrated across the globe generate quite a lot of engagement on social media, like International Women's Day and National Sibling Day. Hop on the bandwagon and publish a relevant newsjacking post to join the light-hearted events' fun.
Instagram Stories
Stories on Instagram can be posted more frequently without clogging up the main feed and overposting. These stories usually comprise non-filtered organic videos and images. Similar to the Snapchat Stories feature, your Instagram Story will also automatically get deleted after 24 hours.
You can be a little more experimental with Instagram stories as opposed to your Instagram feed which should feature polished and refined visuals. This feature being time-sensitive proves to be a useful tool in the live showcasing of your business events and those you attend.
Adding Instagram Story Highlights
The platform's story highlights are stories that have been kept exceeding the 24-hour limit and have been posted to an Instagram profile in the 'highlights' section under the Instagram bio.
Instagram story highlights can be posted to your Account for your followers to see semi-permanently. Your company's products, promotions, and services can be added as highlights. Highlights can also include links to external sites like your business website, for instance. To keep your profile on-brand, Instagram allows you to add Story Highlight Covers at (2000 x 2000 px, or 1:1).
Several businesses post their business hours, current sales and promotional deals, team members, locations, and behind-the-scenes videos to their story highlights.
These highlights can be considered as an extension of your bio because they are located at the top of your Instagram profile, just underneath the bio.
Bear in mind that an image or video needs to be posted as a story previously before pinning it to the highlights. Content cannot be added to your highlights directly.
Instagram Live
Your content can be shared in real-time with your followers using Instagram's live video feature.
Open the app's camera and select the 'Live' option to start your live video.
Once your live video starts, your followers will automatically be notified about you going live. With a built-in chat feature, live viewers can also interact and comment on the video.
With live videos, you can showcase engaging and exciting real-time content, have it revealed, or host a Q&A session.
Instagram Reels
Instagram users can now make entertaining videos with Reels to share on Instagram with friends or anyone else. 15-second multi-clip films can be recorded and edited using the recently introduced artistic tools, audio, and effects. Reels can be shared on Feed with followers, and if your account is public, a new section under Explore will allow users from all around Instagram to access them.
Anyone may use Reels in Explore to join the Instagram creator community and expand their worldwide audience.
Reels can be made using video uploads from your collection, a sequence of individual clips taken at a time, or all at once.
Press and hold the capture icon to begin recording the first clip. As you record, a progress bar will appear at the top of the screen. Each clip should be stopped recording.
There are also some reels marked "Featured" that you'll view. You'll be notified if your reel is showcased in Explore. Instagram's featured reels are a collection of public reels that have been hand-picked to help find creative content that will amuse and inspire users.
Reels provide users with an additional opportunity to express themselves, enabling them to explore more of what they enjoy on Instagram and support anyone who wants to become a creator.
Using Hashtags on Instagram
Hashtags are keywords or key phrases spelled without space and are widely used on social media, especially on Instagram. These words are prefaced with a pound sign and are usually used to highlight events, pop culture, conferences, entertainment, and recurring themes to increase your content's visibility over various platforms. Hashtags originated and gained popularity on Twitter.
With over 95 million images shared each day, it is difficult for your individual Account to be highlighted. This is where hashtags come into play. Even though only public accounts can be viewed when searching certain hashtags on Instagram, they combine a wide variety of posts from users into a single page or feed. This makes it easier to find specific tagged content on the platform. When searching for a word or phrase, the results are divided into four sections:
The 'Top' section in the search shows top accounts, locations, and hashtags that include your keyword.
The 'Accounts' section displays the top accounts on Instagram that include the used keyword or phrase.
The popular 'Tags' section suggests the most commonly used hashtags that include your keyword and the other posts shared using that hashtag.
The 'Places' section displays the nearest locations, which include your keyword.
For instance, if you tag a post using #coffee, you may want to broaden the reach of your post by using relevant hashtags like #coffeeholic. You can add up to thirty hashtags to a caption on your public post. Using and creating hashtags is easy and simple as they can be a mix of characters, emojis, and digits.
Several businesses create their own branded hashtag when rolling out a new product or service, managing a social media campaign, promoting events, and collecting user-generated content.
9 Instagram Hacks Marketers Often Overlook
Instagram has become a rapidly growing, popular photo and video sharing platform. The platform sees about 1.16 billion monthly visitors. Five hundred million people use Stories daily, and users, on average, spend 8 minutes on the app. There are also a lot of influencers on this social networking app who have a huge following. With the appropriate strategy, you too can establish yourself as a powerful brand.
Benefit from Instagram Stories
Cross-promoting Instagram Stories can increase a post's reach on Facebook and Instagram. This feature is highly recommended among other Instagram marketing techniques. You may also add Story Highlights to your profile to highlight your greatest stories, which could be a clever approach to draw attention to a crucial product or occasion. Additionally, Instagram Reels material can be displayed as a Story or a post, which helps make longer-form content more visible and engaging for viewers within the account feed.
Remember that discoverable hashtags can be utilized in conjunction with your present hashtag strategy, hyperlinks, or mentions, such as your username, in the video descriptions to help you improve your business's growth plan.
Brands advertise live broadcasts, which are frequently given preference by algorithms. Now that Instagram plans to move live streams to Reels, it could be worth investigating how this could help your business by including a new function that would make watching and streaming videos much easier.
Take advantage of Instagram Stories to promote user-generated content. If someone took a fitness class at your gym, for instance, and shared on social media how strong and refreshed they felt afterward while tagging your company, you may share that narrative. This will serve as excellent social proof for your audience.
Cross-Post Twitter Content
You might upload the text of your tweet to Instagram or share a screenshot of it. You can cross-promote your social media accounts and hasten the expansion of your follower base by including your Twitter handle and the Twitter logo in your postings. It's also an excellent method to keep content fresh, especially if you haven't posted anything for a long time, making your organic reach suffer. You should consider your efforts to provide information, pose queries, and publish material that astounds readers.
Consider launching a cross-platform competition as well. Primarily, you will increase the value of the prize you give away by reaching your audience on their chosen channel and getting the most exposure possible.
Incorporate Closed Captions in Stories
30% of Instagram users view Stories without sound. Therefore, if you don't include closed captions, you risk losing out on a big chunk of information for the audience swiping through your Instagram Reels and Stories.
Thanks to video subtitles, captivating tales and Reels can now be produced thanks to the video subtitles addition.
Video subtitles are not only a terrific way for viewers to watch without sound, but they are also crucial for those with hearing problems.
Additionally, adding closed captions to your Story has never been simpler, thanks to Instagram's Stories Caption sticker.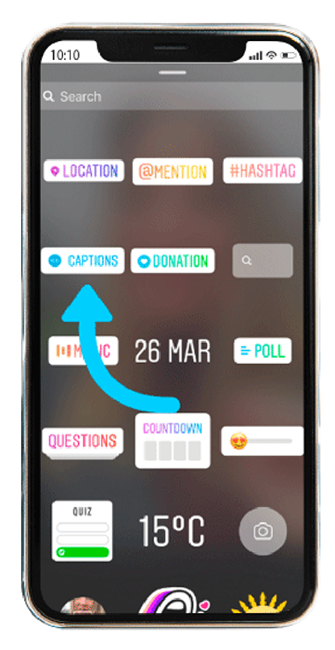 Choose the sticker, and Instagram will create closed captions for you.
Post Carousel Images
Share carousel posts with your audience to make your content impactful and have a longer shelf life.
This is done if followers don't interact with your post when they first view it. But they might see the second slide of your carousel when they open the app the next time, giving you another chance to capture their interest and expand your audience.
Plus, carousel articles are also quite customizable and shareable because you may include up to 10 slides with advice, videos, and resources.
Initiate a Discussion in the Comments Section
Unfortunately, many people don't bother replying to comments left by followers in each post. Leaving comments on other people's posts encourages interaction. Responding to comments from people that have insightful advice also fosters a genuine connection with them.
Since Instagram wants users to utilize the platform for longer periods, it displays the account more frequently when it observes a spike in engagement. Instagram customers that stick around longer are more profitable since the site can generate more money from advertising.
Last but not the least, companies of any size can benefit from this list of efficient Instagram growth hacks to expand their followings, boost engagement, and attract new clients. Take into account these specific Instagram Marketing factors that may assist companies in the beginning to design stronger growth hacking methods and approaches.
Conduct a Giveaway Sponsoring Influencers
A giveaway on Instagram is a fantastic method to encourage user-generated content and use your current followers to increase brand recognition. We advise adopting a giveaway loop strategy in which you can collaborate with additional influencers who contribute to a fantastic giveaway prize. As a result, the giveaway will cost less to administer, and the contest will spread more widely, increasing your audience and engagement. Additionally, you would want people who wish to enter the contest to follow the accounts of all contest sponsors and to like, share, and comment on the post to participate and win a reward(s). This is a great incentive to encourage user-generated content.
Make Use of Videos and Reels
Your audience engagement will increase if you create entertaining videos for your Instagram Reel. Your video's reach can increase further by adding it to your YouTube channel. Since Instagram shares videos more frequently than it does photographs, this is a fantastic way to gain new followers.
To get high-quality posts and material that will enhance brand visibility, lead generation, and website traffic, team up with a reputable Instagram marketing company to implement the newest Instagram growth hacks systematically.
Share Product Snippets to Urge Users to Make a Purchase
What if posting product teasers on Instagram alone might increase sales of your products? Instagram is a fantastic platform for product promotion. Additionally, if you play your cards well, you won't irritate or scare away users with adverts.
If you are excessively forceful, people will stop following you immediately. However, using product teaser postings is an easy approach to talk about your product and generate enthusiasm without being imposing.
Some brands on the platform do not directly advertise but instead offer the services of a free mobile app for users to shop.
Posts that advertise products on the platform receive thousands of likes each, which adds a lot to advertising.
This kind of advertising is effective because it isn't intrusive. Such ads are unhurried. Customers are enticed to download the app and compare prices by the discount and product image. Such adverts work for all industries, especially the food industry, as images of products prompt users to try new additions to the menu without it being forced upon them.
People are more inclined to take the plunge and make a purchase when you tease them about items they are interested in without pressuring them into it. Even if they don't, they'll still interact with your post by liking it, leaving a comment, or sharing it with a friend.
So, please don't be hesitant to showcase your products by uploading images of them, but do so carefully. Making sponsored advertisements is also helpful.
Run Ads that are Sponsored
Instagram advertising is now widely used on the site. The best part is that you can set an ad budget and decide exactly how much you want to spend on them.
The carousel option allows you to display a single sponsored or several advertisements.
This enables brands to reach their customers in whole new ways. Only individuals following your account could view your updates and images before sponsored posts.
Brands may now share their images with anyone who falls into the demographics of their target market, extending their reach further than before.
Use compelling content for sponsored advertising that appeals to the target audience you want to show the ad to.
Keep an eye on your most popular content because you can also convert it into sponsored advertising. These successful posts can eventually be disseminated to potential clients as paid advertisements.
Past several posts simultaneously to various audiences to increase engagement. A variety of sponsored advertisements can be posted, including:
Images
Reels or videos
Multiple posts in a single post (carousel)
Instagram Stories
Another excellent way to engage followers on Instagram is through sponsored or unsponsored stories.
Instagram Analytics
Instagram alone does not have an in-depth built-in analytics system like Facebook just yet. However, when you switch to a Business Account, you gain access and insight into limited analytics such as reach, engagement, impressions, and a number increase in followers.
The engagement on campaigns amount spent, and Instagram impressions can also be tracked via Ad Manager. However, these metrics are restricted to individual campaigns and posts.
More in-depth access to Instagram metrics can be gained using third-party apps such as Iconosquare and Sprout Social, which permit you to track engagement and followers over time, optimal posting time on the basis of previous posts, and your performance in comparison to competitors.
Regardless of having a budget for additional in-depth analytics tools, track the basic metrics to ensure stellar performance and account growth.
Instagram Advertising
With Instagram advertising, brands get a unique opportunity to engage with their audience. These ads aren't like the typical disruptive ads since they naturally appear in the news feed like other posts, encouraging users to learn further about your product or business.
How to Create an Instagram Ad
Setting up ads on Instagram is done via Facebook Ad Manager.
To run an advertisement, choose an Instagram post you'd like to populate or create a new post through Facebook's Ad Manager. Make sure to claim your Instagram Business account and link it to your page on Facebook to run ads.
Select the name of your campaign and choose an objective from the options listed below:
Engagement
Reach
Traffic
Views
Brand Awareness
Lead conversion rate
App installations
Bottom Line: Instagram Marketing Helps You Grow
With over a billion active users monthly, there's no doubt about Instagram's reach and power. The simple photo and video sharing app has been modified into an enveloping experience on social media, allowing customers to explore a brand's aesthetic and identity fully.
Creating interesting, informative visuals and high-quality content is highly valued by users as it showcases your brand in a new and unique manner. Your content can be optimized by writing engaging and entertaining captions.
Developing and maintaining a forum capturing your brand's true essence is made easy and fun through Instagram. Follow this guide and receive inspiration to optimize your Instagram marketing strategy.