Are you starting a new venture? It's exciting, isn't it? Bringing your brainchild and seeing it turn into a beautiful reality sure is a highly rewarding experience, right?
We're certain that you might be looking into more ways to benefit your business. You'll have to build a website, market your business, generate leads through various channels, and much more! But all of the lead generation and marketing make their way back to your website. Your website has the potential to make or break your business credibility. Hence, it's important to have a presentable, easy-to-navigate website.
However, if you are a novice business owner who does not know much about coding, you need not worry! There are plenty of ways to build a website without coding. That's precisely what we are going to discuss here in this blog!
Getting a new website up and running, whether it's for a company, personal blog, portfolio, or something else entirely, can sometimes be a challenging and expensive process. Even if you have little to no coding or design knowledge, we have put together a selection of tools to assist you in creating and launching your next website.
What Is A No-Code Website?
A landing page created with the assistance of no-code website builders and platforms is known as a no-code website. It might be a completely working multi-page website with intricate logic, a wide range of features, customer-management systems, animations, and pretty much any other element found on a website built from scratch. No website's source code reveals how the website was created.
Additionally, with no code, you may create a whole product and a website. Let's delve more deeply into how you might implement it for your company. These businesses serve as inspiration since no-code technology was the only foundation of their operations.
How To Build A Website Without Coding?
Do you know? 50% of the consumer market googles about a business before making their purchase, resulting in increased search queries. This would mean that almost 50 percent of the market would not bother buying your product if you do not have an appealing online presence, let alone no presence at all.
For many company owners, creating a website was a pipe dream because of the need for technical expertise. In this situation, they will either need to employ a developer or learn how to code.
Sometimes employing a coder exceeds the business budget since you must pay the coder a huge sum. Additionally, you will constantly be dependent on them. However, learning how to code is a challenging task.
Because of this, building a website using a content management system is now the best and preferred solution.
Additionally, it will walk you through every step of creating a website that is completely user-friendly for beginners. I'll outline the procedures for creating a website here. So without further ado, let's begin.
You must first choose a domain name for your website. A domain name may be used as the identification of your website, via which visitors can contact you. It is the first and most important phase of website creation because it affects the development of your business.
When developing a website, the domain name you choose is quite important. Subdomains are typically provided for free by default by website builders. However, this option is only useful if you want to test out the system's functionality. Nevermore.
Explore the integrated domain and hosting alternatives that the majority of website builders provide if you have long-term intentions. In other words, the system will allow you to choose a domain based on your company's name. Additionally, you may link your own.
After purchasing a domain name, you must choose a hosting service provider for your website. With hosting, you may have a virtual residence on the internet where you can save all the data for your website. This digital home is present on every webpage.
There are several hosting options, including Bluehost, HostGator, and Hostinger. These are a few well-known service companies. You may choose any hosting company, but you must first review their offerings to choose which is ideal for your website.
Refrain from assuming being sent to the dashboard as soon as you log in to the system (although some systems do that). The abundance of available services allows you to choose the most useful template for your industry, the tools you intend to use, and the functionality you want it to have. Templates are flexible; some platforms let you select empty spaces to create a website completely from scratch.
It's time to start working on the template's design customization as soon as you have chosen the one you want and have the domain name to publish a website when it's finished.
Website builders often feature strong capabilities to give your project the needed design. Different layouts, backdrops, icons, styles, fonts, galley, video integration choices, and other design components will be available for selection. Pick the ones that will help you the most to customize your website.
Tools To Build A Website Without Coding
No-code website builder tools enable non-technical people to create websites with little to no coding. These tools offer visual drag-and-drop controls akin to lego bricks so website designers may put their creations together. Instead of waiting for a company to do it for you, you can now create a website for your company in a matter of hours or days. Once the websites are up and running, you may adjust without downtime.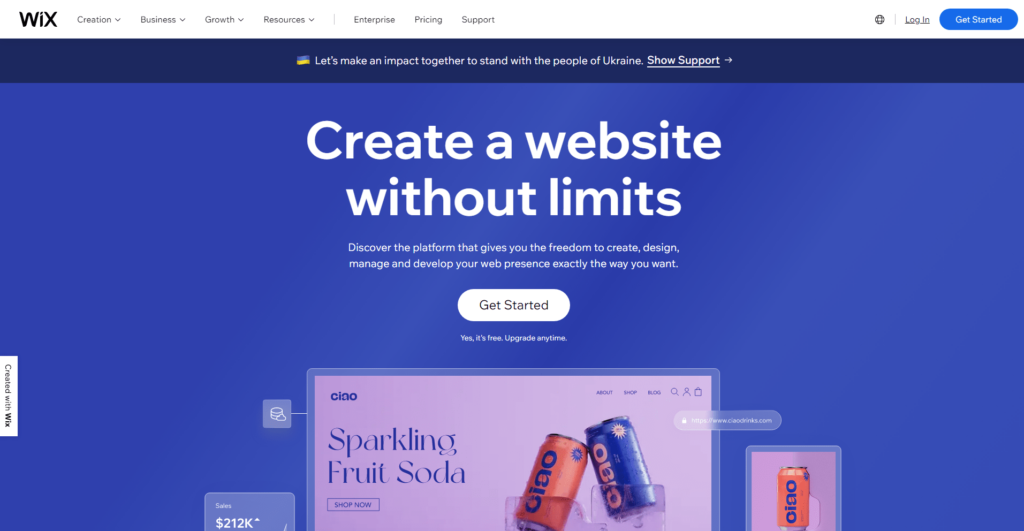 Wix is a well-known platform without coding where you can pick from many templates. It features extremely reasonable price plans and is quite customizable in terms of design.
It is a cloud-based, no-code website builder. It offers many customizable templates and plug-ins that enable users to build beautiful, responsive websites.
The finest website builder for those without technical skills is Wix. The development of any kind of project is possible on this platform, regardless of its specialty, scale, or degree of complexity. It is also the most well-known and trusted platform. The all-in-one solution comes with all the features, complex design alteration options, and website launch and maintenance tools you may need.
Wix offers capability, simplicity, use, and adaptability, which most beginners find lacking in other website builders.
The website builder provides Wix ADI and Standard Wix Editor as its two editing choices. The first one enables you to automatically build your web project while adhering to the system's rules and responding to its inquiries by default.
The second option enables more extensive website customization by enabling users to manually change their projects in light of their goals and specifications.
The website builder has built-in blogging and online store features. This makes it easy, convenient, and seamless to create/customize blogs and small- to medium-sized web businesses. Additionally, no coding expertise is necessary here.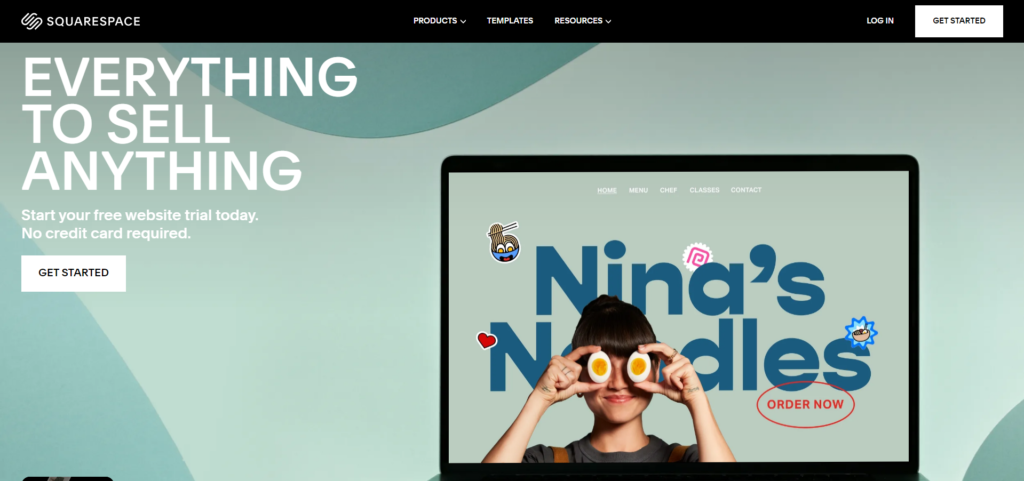 This platform is a well-known name in website-building tools and is perfect for photographers, artists, and anybody else establishing a professional website. You can build a website without coding with Squarespace. Even though it lacks sophisticated functionality, Squarespace is one of the simplest no-code website builders for beginners.
For everyone who needs a high-quality project built without writing a single line of code, Squarespace is a renowned all-in-one website builder. This is the DIY system, which targets non-techies and web design professionals and offers many helpful tools to establish a website.
This platform is a fantastic option for business owners and creatives who wish to manage blogs, small business websites, small/medium web stores, and portfolios.
Squarespace is renowned for its intense attention to the portfolio. The website builder has a comprehensive feature set designed with portfolio owners in mind.
It seems appropriate to highlight an integrated Cover Page Builder, Logo & Title altering tool, powerful Style Editor, high-quality Logo Maker, and other features among the possibilities you may choose and utilize here.
The website builder enables posting spectacular and feature-rich tales on social networks using the downloaded Unfold App. The program is user-friendly, free, and easy to comprehend. The Unfold App gives users access to pre-built themes and features only available with paid subscriptions, in addition to narrative implications.
Although Squarespace does not offer free plans, it provides a 14-day free trial that allows you to evaluate the system's built-in features. Premium options are also accessible here, and their prices start at $12 per month.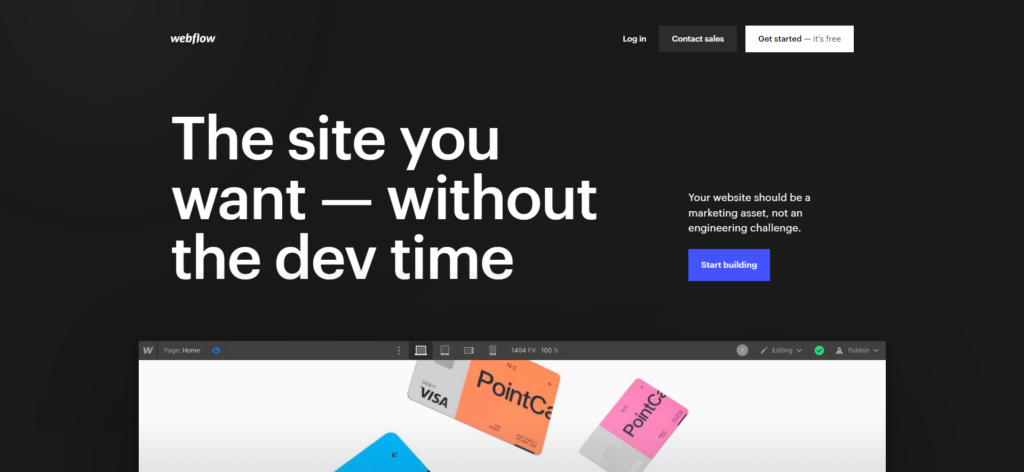 One of the no-code builders that are more advanced. For individuals that have outgrown a platform like Wix, it is frequently seen as an upgrade. Its user interface is simple and easy to use. Once you have learned the fundamentals of Webflow, you may utilize its more advanced capabilities to create powerful websites.
Webflow enables designers to create specialized, expert websites without writing code. It offers dependable and hassle-free hosting.
Webflow is a drag-and-drop editor-equipped, a fully-featured website builder for professionals that enables the beginning of various online projects. The system performs best on complex company websites, blogs, portfolios, and landing pages.
The system's similarities to modern content management systems (CMS) in terms of website modification and appearance is one of its most noticeable features.
Experts regularly likened it to sophisticated software like Adobe Dreamweaver, which is intended for experienced web developers and demands research time.
Although Webflow has a handy theme editor, it requires time, knowledge, and effort to study and grasp its dashboard. This is due to a standard editor and CMS mix in its structure and toolkit. Additionally, users have two alternatives for modifying websites: Editor or Designer.
Because of its cutting-edge integrations, Webflow distinguishes apart from the competition. You may choose and use integrations for Lightbox Gallery, Lottie, and AfterEffects to improve your website's performance according to your project's goals and needs.
When using Webflow, you may build dynamic website content based on a variety of field combinations. You may create forums, image galleries, video galleries, blogs, online forms, and other areas similarly.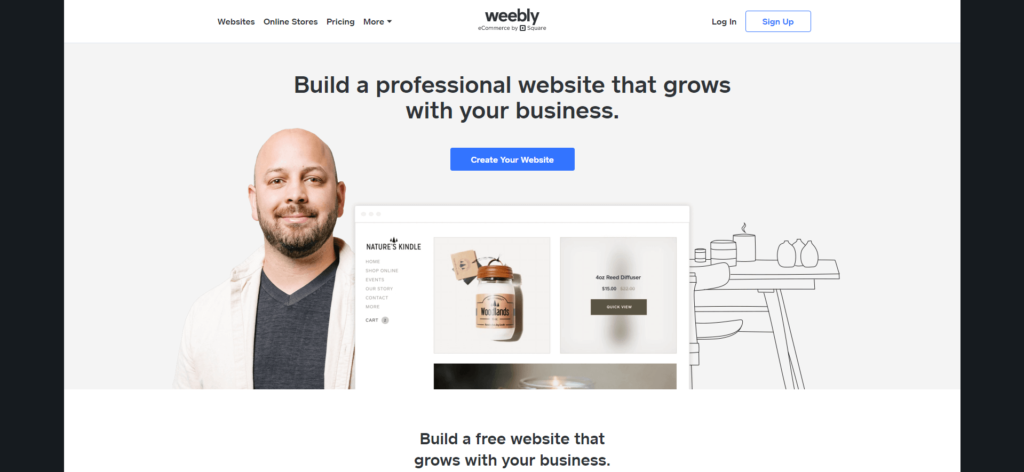 A drag-and-drop website builder with no coding that has configurable designs and practical tools. It is a potent eCommerce platform that simplifies order management, shipping, and payments.
Weebly is an easy-to-use eCommerce website builder for non-coders that enables you to operate small and medium-sized online businesses without needing technical expertise.
The site was initially designed with blogging in mind, but after integrating with Square in 2018, it strongly prioritized eCommerce. Weebly features a broad number of benefits that make creating websites simple, quick, and hassle-free.
Weebly differentiates from the competition because of its sophisticated eCommerce engine, as was already noted. It is packed with business features that may significantly improve the operation of your online store.
A configurable shopping cart, many product management options, the integration of search filters, the ease with which payment and delivery choices may be changed, etc., are a few of these advantages. The system also enables you to add and personalize a blog to update the entries often.
To improve the promotion of your website, you may change advanced email marketing settings using the Weebly Promote Tool. Based on the registered users' actions, it automatically creates online messages.
You may try the system's built-in features with Weebly's free, unlimited membership for as long as you like. Insofar as starting and publishing a fully functional website is concerned, you'll have to upgrade to one of the premium options. Three of them are now available through the website builder, with the least expensive one costing $6 per month.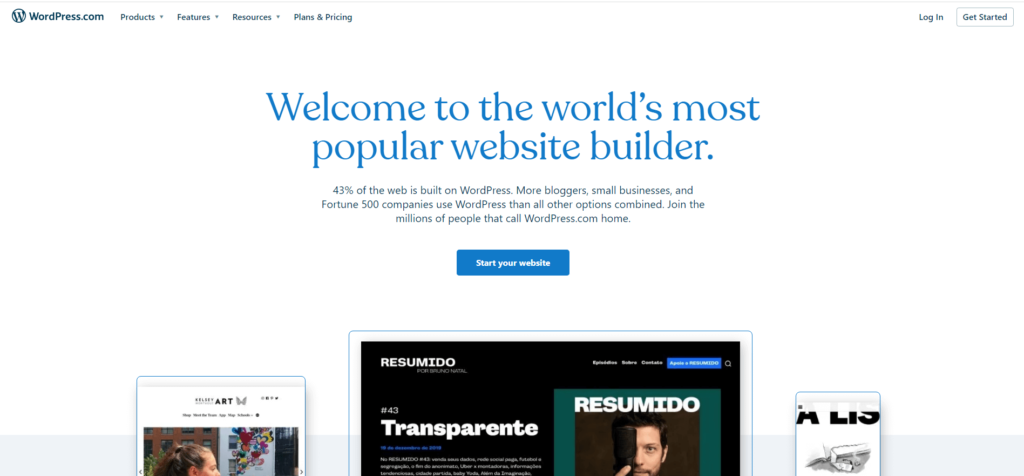 The most well-liked content and blogging website builder, featuring over 54,000 plug-ins and a wide selection of themes. Both free and paid choices are available.
Building a website from scratch is a challenging task. And WordPress has been a trusted tool for this. One of the most popular tools for building a website is WordPress. With plugins like elementor and divi, etc., websites may be created without any coding, even though the possibility to customize the code is there. WordPress makes adding content to a website incredibly simple, with more than 9,600 themes to pick from!
The finest CMS for quick website construction is WordPress. This is the most widely used open-source CMS in the world, and it was primarily developed for the needs of bloggers.
The system now enables the launch of several online projects with varying functionality, size, specialized focus, budget, etc. The program also has drag-and-drop functions that make creating websites easier.
Due to its high-end integrations, the CMS has become more well-known worldwide. In addition to the built-in plugins, it provides access to hundreds of online third-party integrations.
You may explore many of them based on your website's type, specialty, and needs. You will undoubtedly discover cutting-edge plugins for integration here, regardless of whether you establish a blog, a web store, a landing page, a company website, a portfolio, etc.
Because WordPress is a content management system, you should look for a reputable hosting company to put your website online.
Despite the fact that there are several hosting companies available, Bluehost is the only one that WordPress officially recommends. The firm provides a number of different plan options that vary in the variety of services offered and integrated functionality.
WordPress is a free content management service (CMS), so you can download and set it up with no out-of-pocket expenses.
However, in order to construct fully functional websites with it, you will also need to pick and install third-party plugins and select a hosting company before launching your project. These actions necessitate additional financial outlays. For instance, the least expensive Bluehost plan will cost you $2.95 monthly.
Merits and Demerits of Building A Website Without Coding
The quantity of work involved in producing the end product is the fundamental distinction between utilizing a website builder and building the code from scratch. The website builder is an uncomplicated, step-by-step procedure that includes drag-and-drop components for quick building. Consequently, it has both benefits and drawbacks.
Advantages of A No-Code Website
When you opt for a website with no code, you may come across numerous advantages that it might have to offer. Some of these advantages are listed below;
Easy To Comprehend


The no-code design revolution's most obvious advantage is that it allows more individuals to create websites and applications. To get a reasonably simple site online in a decent length of time, you don't need to study and comprehend the inner workings of website building.

Cost-Effective


Regarding website installation costs, website builders are at the lower end of the scale. Typically, a yearly bundle costs $100 or less, and you can also choose to pay monthly for the service. Any small business owner would really benefit from being able to spend less on their website and use that money toward other aspects of their company.

Drag-And-Drop Option


The ease with which you can choose what you wish to add to the page is a big benefit of website builders. With this user-friendly interface, building your website is as simple as dragging and dropping various components onto each page.

One-Time Payment


A website builder often serves as your one-stop shop for launching your website immediately. It offers hosting and key security features like secure site licensing and lets you choose a domain name. You may pay one payment and receive everything you need to keep your website online and working rather than buying these things individually and connecting them yourself.
Disadvantages of No-Code Websites

While there are numerous advantages of no-code websites, it comes with a few disadvantages of their own as well. You should be aware of these advantages in order to avoid any inconvenience;
User Control


While many individuals are joining the no-code movement, there are also plenty who don't think it offers them any more opportunities or value.

Control could be the no-code movement's worst drawback. You are limited to what the program or tool you selected can achieve. With these builders and tools, several restrictions frequently change based on the tool you use or the plan you have chosen. Given this, it might be crucial to conduct an extensive study before beginning a no-code project.
Limitations


The capabilities of website builders are constrained. Determine whether the website builder can implement a new feature for you if you wish to add one to the website. It cannot be added by you.

Pricing


Although website builders are reasonably priced, they aren't entirely free. The website builder may need a monthly subscription for use. You might need to invest a specific sum of money only to launch the website and then more each month to improve its appearance.
Final Word
Every website builder is created with a ton of capability, but certain extra features are also included to appeal to the market. Users must select the website builder tool that best meets their needs because these extra capabilities are developer-specific and may not suit all needs.
It might be difficult to build a website from scratch without knowing how to code, but using website builders makes it feasible. These systems offer a wide variety of features, resources, and choices. They facilitate the easy, fun, and seamless building of websites.
The tools explained in this blog are the ones that create a website without coding. However, if you are looking for a rather professional website and need an expert to create a website with coding, you can get help from custom web design services providers.
Professional website designers can create a professional website for you in the longer run. In fact, if you are a budding business, getting help from experienced professionals might just be the right step for you! So, make a decision wisely and see your business flourish!